December Blog: Get into the spirit this Christmas with Victoria Retail Park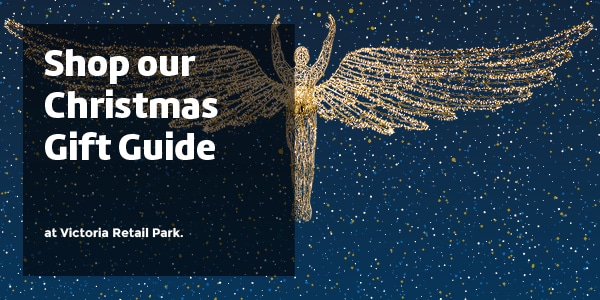 'Tis the season to start your festive shopping! We at Victoria Retail Park believe gifts should be as unique as the person receiving them. That's why we have created a gift guide to help you find the perfect gift for everyone on your list this year. Whoever you are searching for gifts for, you can find something for everyone at our Park! Plus, you may discover a few things to add to your own Christmas wish list whilst you are at it!
Gifts for a fashionista:
If everyday is a runway for a certain someone in your life, finding something that caters to their taste can often be stressful. We recommend thinking of what they already own so you can choose something that feels authentically them. Whether their wardrobe is filled with statement pieces or they prefer a more casual look, there is something for everyone at Victoria Retail Park. If your fashionista friend prefers a luxe lifestyle why not surprise them with a matching set of silk pyjamas or a trendy trench coat from Next. If relaxed is more their vibe you can't step too far wrong with an oversized sweatshirt or cosy knit TK Maxx. No matter what their style is, our stores are filled with fashion-forward pieces that are bound to put a smile on their face!
Gifts for a fitness fanatic:
If you have a loved one who lives and breathes fitness, whether they are an avid gym-goer, a dedicated runner or a yoga fanatic, we're sure they will be thankful for a fitness-related gift to upgrade their sweat sessions this Christmas. New workout gear is always a good idea to fuel their motivations. Shop the latest Nike or Adidas activewear collections at JD Sports. If they are always pushing to reach new limits why not treat them to fitness tracking smart watch from Halfords. Regardless of their goals, help them achieve them this Christmas!
Gifts for a home bird:
If you are looking for a gift for an interior lover, there is lots to choose from Victoria Retail Park. Whether their home décor style is colourful and bright, shabby chic or they love transforming their space with greenery, get them something that'll help them enjoy their home even more than they already do. You could treat them to a new throw and cushions from B&M to make their bedroom extra cosy or perhaps they would be thankful for a new addition to their indoor plant collection from B&Q. Ornaments are also very on trend at the moment so if you know someone following the latest interior trends TK Maxx has a great range of stylish vases and decorations.
We hope this has given you some inspiration to get everyone ticked off your present buying list this year! Victoria Retail Park wishes you a very merry Christmas and a Happy New Year.
Click here to view the full list of our stores and opening times.
If you wish to receive similar content to this from Victoria Retail Park via email please sign up to our newsletter here.